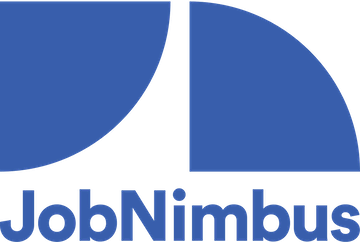 We are excited to announce this new partnership with JobNimbus. JobNimbus is a construction management software with interactive boards that allows contractors to see and manage their home improvement projects. Increase your revenue, manage sales leads, project income, and collect payments more efficiently using this cloud-based and web-based construction business software.
Get Organized and Get Growing
Be more organized by calculating material and labor on the go, which ultimately helps you to provide professional estimates quicker, so you can win more bids. Gain insight into your jobs and increase your capacity through JobNimbus's all-in-one CRM software.
Increase productivity by using JobNimbius's contractor management software to enhance follow up and project completion. Use a calendar to get visibility, and their mobile app allows you access information from anyplace and everywhere.
With more user-friendly features in one spot, your business is able to save money, and continue to grow. Get accurate estimates in just a few minutes, using a CRM specifically designed for general and specialty contractors.
JobNimbus provides you with everything in one location that is simple to use and enables you to get precise quotations for exactly what you require in a matter of minutes. This allows you to save money while growing your construction business, since the CRM software is specifically designed for general and specialty contractors.
Something for Everyone and Everything.
JobNimbus gives you access to all of their features automatically. They've combined project management and CRM into one amazing software. Allowing companies to use JobNimbus to manage a customer from the initial lead through production and final billing. JobNimbus is adaptable, so if you just need a few project management or customer relationship management features, you may tailor JobNimbus to your company's needs.
JobNimbus gives you complete control of your leads and allows you to keep track of everything that happens in their system as a lead. Everything from storing documents and pictures, to being alerted when a job goes through each step, can be handled within JobNimbus. All in order to help your businesses move more jobs forward and prevent any from falling through the cracks.
JobNimbus was designed to be as simple as riding a bike after years of expertise. There is no use in having any functions in the world if they are not simple to utilize. They've worked hard to make JobNimbus as easy to pick up and use as it is complex. They hide more complicated capabilities by default so that you can learn at your own speed, while still allowing expert users to move even faster and more conveniently in JobNimbus.
Contractor Appointments is a leading contractor lead referral network in the United States. With over 30,000 homeowner projects per month on their site, it's easy for contractors to connect with their qualified leads in minutes. All you have to do is visit ContractorAppointments.com or give us a call to get started!
This partnership is sure to increase capacity for Contractor Appointments customers looking for a project management and CRM software, to create more organization and efficiencies and help their business get to the next level.
Look for more exciting announcements in the coming weeks!
Integrations and Partners: