10,744 Appointments. 26% Average Close
In the next few minutes, we're going to lay out a proven, battle-tested method that you can use (and definitely should use) to generate high quality, exclusive, in-home full roof replacement appointments (not leads) every week on demand!
If you've bought leads in the past, or paid hefty fees to find customers, or paid your sales team to go knock doors then you know it can cost a pretty penny to get a decent lead in... Over $100/lead is common so we're told... so imagine being able to buy guaranteed high-value in-home appointments for that price... how awesome would that be?
The Roofers Common Problem
We speak with roofing contractors every single day, and one of the main problems we see and hear about is not having a predictable, constant flow of targeted leads interested in their services that can be turned on and off like a tap.
Instead, many roofing contractors are still heavily reliant on knocking doors/canvassing, cold calling, direct mail and other offline marketing methods. Don't get us wrong... these methods work, but they're getting majorly outdated in this day and age.  And there is a better, faster way to securing new customers.
The New Customer-Getting Strategy On The Block
Nowadays there's 2 places online where EVERYONE'S attention is... Google and Facebook!

Tens of thousands of online searches happen daily by homeowners who need contractor services.
We use both channels (Google and Facebook) to attract in-market homeowners that need a new roof or repair work.  Homeowners interact with our online questionnaire and scheduling system (about 20 questions) and we screen for only the most qualified projects for the contractor.  We gather multiple points of important information and contact details and then schedule appointments with homeowners that are ready to go.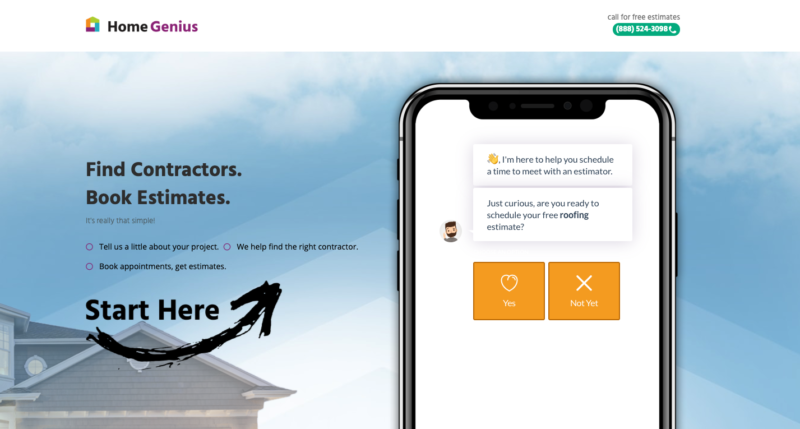 Once someone books an appointment, we confirm all the way up to 1 hour ahead of the scheduled time (via text message, phone, and email).  If the homeowner doesn't show, the contractor does not pay for that appointment. In fact, we guarantee that our contractors only pay when they provide a job estimate.  It's a well-oiled machine!
So far in 2019, over 10,744 appointments have been made by U.S. homeowners using our platform. Roofers providing the estimates closed an average of 26% of the projects they quoted.  That's money in the bank for our partner contractors.
Here's more about the pricing and how it all works when you sign up as a contractor…
Get Guaranteed Appointments
Pricing is all flat rate for a guaranteed appointment:
Residential Roofing - Install or Replace | $125/per Appointment
Commercial Roofing - Install or Replace | $350.00/Per Appointment
Commercial Roofing Repair | $150/Per Appointment
You tell us the zip codes that you can service, your availability, and then start receiving appointments that we set for you.  Purchase as many or few appointments as you'd like and only pay appointment as you receive them. It's that simple!
The world is digital, and to ignore that is a sure fire way to stagnate growth in your business. There has never been a better time to start leveraging online platforms like Google and Facebook which hold an incredible amount of data and have powerful homeowner targeting capabilities.  Our appointment-generating system is quite possibly the most airtight method of generating new business compared to any other form of media and marketing.
If you're interested in learning more about the system, how it works and how it can help explode your business growth with guaranteed results... then we should talk!
Click the button below and schedule a free 15 minute strategy session with us…